CATERING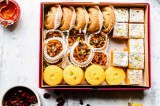 At Sattvic Foods, We cater to a variety of pure Indian vegetarian food for various occasions for the last 5 years. Since 2015 Sattvic Foods has been creating dishes that blend tastes from all over India, keeping food pure vegetarian and adding exciting new flavours to our recipes.

Whether it is a wedding party, You will always get the authentic Indian food taste. We have an extraordinary collection of starters, main dishes and sweets for all occasions.
Our catering service offers vegetarians another level of experience, from traditionally cooked dishes to our new and fresh ideas for Lunches to parties, and for romantic meals to family outings.
Our company is a leading wedding party catering service provider company in Milton Keynes. We give innovative ideas to the customers while looking at their requirements and Provide delicious food at the wedding party which follows the taste buds of the guests.
With our team of chefs from Western India, Sattvic is the caterers who can give you the ultimate in pure vegetarian Indian Cuisine. Whether it's a Wedding, Birthday, Anniversary or just a get-together, Sattvic will not disappoint you, with an immense amount of catering experience, you will not only experience the ultimate in Indian Vegetarian Cuisine but the ultimate in service as well. To give you that peace of mind for your event we will arrange a tasting session for you. (Subject to numbers: 50+ people event only ) Please check our standard catering menu for more information on dishes we can do. If the dish you want is not present, Not to worry, contact us and discuss it with us and we can cater accordingly to your requirements.
Please let us know your Exact requirements by completing our catering requirements form and we'll get back to you with a customised quotation to meet your needs.
Please contact us for a quote once you have selected your menu from. Please note an extra charge will apply for live cooking, extra items and soft drinks. Please ask for items that are not listed. * Extra cost will apply